This past weekend, the Steam network offered an amazing deal to its members. For $10 you could purchase
The Orange Box
(which includes
Half Life 2, HL2: Episode 1, HL2: Episode 2, HL2: Lost Coast, Team Fortre
ss 2
and
Portal
). What a deal! Six games for $10. I couldn't pass on it.
Admittedly, when
Orange Box
first came out, I was pretty indifferent to it. I never heard people talk about the other games included, it was always
Team Fortress 2
. The visual style was definitely interesting, but it didn't really speak to me. Two of my roommates at the time, bought it on launch day and they played the shit out of that game, all day and all night.
Anyhow, I own it now and I'm hooked. On the first night I played
TF2
til 3 in the morning. I should tell you also that I don't like playing games late into the night; I usually like reading, watching TV, blogging and/or Sudoku'ing. That said,
TF2
grabbed me by the balls and didn't let me go. I started off as a below average player (on the bottom of my team's list) and ended the night by becoming average (near the middle and sometimes near the top).
As I mentioned, the visual style is unique, almost like something out of a Pixar movie (think
The Incredibles
). It's a slapstick cartoon style with harmless cartoon violence.
Of the maps I've played so far, the mission objectives range from capturing all the points of interest, retrieving enemy intelligence briefcases and pushing a cart to its end path. This game is much more n00b friendly than other Valve games. With
Counterstrike
, there can be imbalance in the team if there were even one pro-skilled player running amok. In
Day of Defeat
though there's more of a sense of teamwork than
CS
, the gameplay does rely more on precision since it's almost a one-hit kill affair. In
TF2
, the gameplay is leaned more towards having a well-balanced team with cohesiveness. Skill level doesn't seem to matter as much as working together to complete objectives. Of the many classes in the game, there isn't one that rises above all the others. Instead, all are pretty much needed in order to become a successful team.
There are 9 playable classes, all with their own strengths and weaknesses. I'll list them here in order of my favourites:
1. Heavy
- The Heavy is this big fat Russian dude who carries around this massive chain machine gun, aptly named Natasha (you can get Sascha, her companion too). He's my favourite simply because you hold Mouse 1 and point at stuff. He has the most health of all the classes. The main drawbacks are that he can go through ammo really quick and his movement is the slowest.
2. Medic
- The medic is a support character and plays an important role for the team as its sole healer class. What's even cooler is that in one life, if you heal for a long enough time, your "uber charge" meter will rise. Once it's at full charge, you can unleash it on a teammate, which allows the both of you to be invulnerable for about 10 seconds. Quite deadly.
3. Pyro
- A shorter range offensive class. The pyro runs around with a flamethrower, scorching opponents and dealing damage over time. The pyro is also important in that his flamethrower is the main spy detector.
4. Demo Man
- Basically, the explosions expert. His first gun drops pipe bombs that explode upon impact and his second gun shoots sticky bombs that you can trigger when you want to explode.
5. Sniper
- Yes.
6. Engineer
- Another useful class. He gathers scrap metal to build support devices: dispenser (gives allies ammo and health), teleporters and sentry machine guns.
7. Soldier
- An offensive class who uses an RPG as his main weapon.
8. Scout
- The fast moving scout! His movement is fastest out of all the classes plus he can double jump. He's useful for mission objectives as he completes them at I think twice the rate of other classes.
9. Spy
- The Spy is an interesting class. He has the ability to cloak and disguise himself as a member of the opposite team. This is the most annoying class for me to fight against. I can't ever tell when someone's a spy and then they backstab me when it's too late. I haven't played as the Spy yet, so I can't rank it any higher.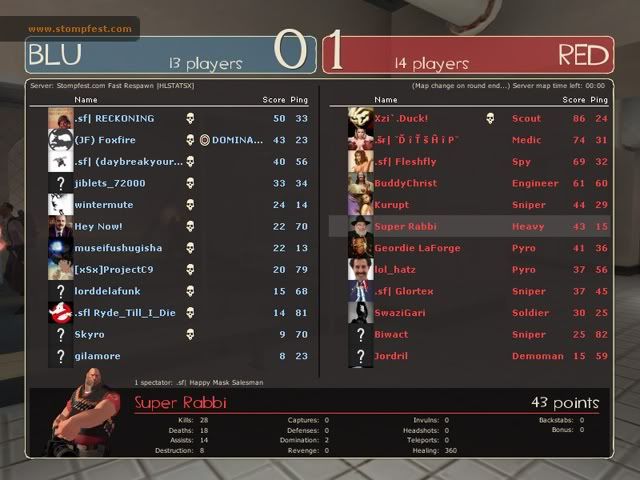 One of my better nights. 28 kills, 14 assists in 18 deaths. The other night I did way better, in second place for the team. I was at 60-something kills in 20-something deaths. Unfortunately, at the time, I thought the PrtScn button was for screenshots, however, it's F5 :(
Anyhow, after a week, I'm still enjoying the game. I've improved a lot since I started. I'm playing mostly on the
Stompfest
servers, so if you see a dude named "Super Rabbi" make sure to say "Shalom!" to me. Later geeks!